Individuals interested in becoming Emergency Medical Technicians (EMTs) must meet educational requirements and pass the EMT exam. Before registering for this exam, candidates must finish an authorized EMT course and take the EMT exam.
The EMT exam is divided into two sections: a cognitive exam (NREMT) and a psychomotor skills section that includes practical assignments. 
The National Registry of Emergency Medical Technicians® established the cognitive test (NREMT test) to demonstrate that the examinee understands entry-level knowledge and concepts that are essential to executing the duties needed of EMTs.
In this post, we will discuss NREMT questions to help you well prepare for the exam.
Don't forget to take our free EMT practice test to pass the exam on your first try.
Overview of NREMT test
The cognitive test (NREMT) is computer-adaptive, which means that the difficulty of the questions is based on the examinee's replies to previous questions. Test takers should anticipate answering 70 to 120 questions, with 60 to 110 of those questions counting toward the final score. There are additionally ten practice questions on the exam that have no impact on the final result. 
The following are the five categories of NREMT test questions that may be used to assess candidates:
Airway, respiration, and ventilation (18%-22% of the questions)

Cardiology and resuscitation (20%-24% of the questions)

Trauma (14%-18% of the questions)

Medical/Obstetrics/Gynecology (27%-31% of the questions)

EMS Operations (10%-14% of the questions)
Is the NREMT multiple choice? 
On the exam, the questions generated for these categories are always multiple choice with four options. There is only one proper answer to each question, but each "distracter" question (or other viable response) must have some "plausibility" or reason to appear correct. This may give the impression that the exam's writers are aiming to trick applicants; nevertheless, the true purpose is to assess the candidate's complete comprehension of the situation and the best potential treatment for the patient.
EMS is not a field that offers simple or straightforward solutions. It necessitates an understanding of disease processes, traumatic damage causes, anatomy, and physiology, as well as the benefits and drawbacks of all treatments available. As a result, fully testing candidates is critical in ensuring that providers are as prepared as possible when they join the field.
How is each question written?
The National Registry maintains "Item Writing Committees" that meet just to come up with exam questions. Each committee is made up of EMS professionals that meet over several days to come to an agreement on each topic on the exam. Questions are also tested as "pilot" questions and provided to candidates on tests, though they are not considered in a candidate's final score, and the applicants have no idea which questions are pilot or actual questions. Questions go "live" on the exam once they have been written, examined, and graded, and all controversial issues have been eliminated. This procedure guarantees that all applicants taking the exam are treated equally and fairly.
About the time limit of the exam
The exam has a total time limit of two hours to finish. The NREMT exam questions will continue until the computer is 95% certain that you are either at or above the needed level of competence to pass the test, or that you are unable to reach the required level of competence to pass the exam.
Maybe you need information about How Much & What Is The NREMT Passing Score?
How many sections are in the NREMT exam?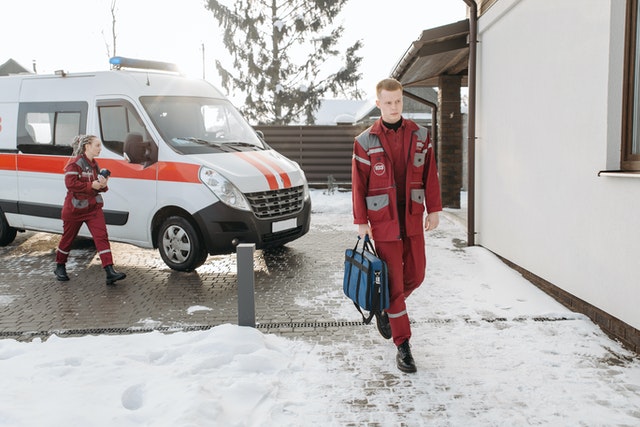 Airway, Respiration, and Ventilation
Airway and breathing principles will be covered in a variety of ways on the EMT test. You'll need a basic understanding of airway anatomy and how each portion works. In an emergency case, it will be required to use airway function as part of the patient evaluation and to propose correct breathing treatment. You'll also need to know how to administer basic emergency respiratory care.
Cardiology and Resuscitation
You will be held responsible for knowing how the cardiovascular system normally operates and what to do if it fails to execute its job adequately throughout the EMT test. There will be questions on the anatomy of this system as well as treatments that can aid in an emergency. Patient assessment will play a major part in your emergency care decisions, and you'll need to utilize facts about each case to figure out the best course of action.
EMS Operations
The processes related to the emergency care system will be covered in these questions. You'll need to know how to evaluate an accident site and how to transfer the ill and injured safely. It will also be necessary to be familiar with methods for dealing with situations such as hazardous materials and traffic. This section also includes information on dealing with big disasters and terrorism.
Trauma
Traumatic emergencies are caused by an external source of harm to the body. Of course, there might be a link between the damage and the patient's current medical issues. You'll need to be aware of a variety of external events that might result in various forms of traumatic injuries, as well as the suitable way of emergency care for each.
Medical and Obstetrics/Gynecology
You'll need to be able to assess and treat a wide range of medical crises as an emergency medical care provider. A medical emergency is one that is caused by a sickness or condition rather than physical damage. This sort of question might have you dealing with everything from an older man with pneumonia to a pregnant woman in active labor. Your future patients might be of any age or in any physical condition, so be prepared to answer inquiries concerning a variety of medical situations.
If you want to get more about NREMT Skills Sheets, you can try to visit our blog.
Final thoughts – NREMT questions
When the computer can correctly determine if you have earned a passing score, the exam will immediately finish. As a result, you'll know right after the exam. Passing the NREMT, however, isn't the only need for becoming a licensed EMT. 
You'll need to take a psychomotor exam after passing the cognitive exam. This is a hands-on exercise in which you will demonstrate your ability to conduct a variety of emergency and medical treatments. You will be eligible for certification if you have passed both of these examinations.
We hope our article will help you know better about NREMT questions and hope you pass both of the exams to start your career path as an EMT.