Simply put, financial analysis is the process of using analytical techniques from science to assess financial issues. By doing so, they may forecast potential risks and future financial outcomes. As a result, the presence of financial analysts is crucial to developing financial strategies and assisting firms and organizations in minimizing risks. How to become a financial analyst? We will give you information about this position in this article.
For a chance to pass the test and become a financial analyst, let's take our free CFA Level 1 practice exam.
What is a Financial Analyst?
Financial analysis is an important job required in every business. Through financial analysis, businesses determine profits, liabilities, strengths, and future earnings potential. Financial analysis is an important aspect of all commercial activities as it provides actionable insights into the organization's future capabilities and potential. Typically, this transaction is used to analyze whether an economic unit is stable, liquid, liquid, or profitable enough to warrant a monetary investment.
Financial analysis is given to reflect the feasibility, financial stability of a project in the business and can predict its profit in the future. In other words, financial analysis refers to an assessment of the performance of invested funds. It can also be an assessment of the value and safety of the debtor's claims against the company's assets.
Types of Financial Analysts
There are many types of research analysts operating in the investment industry, each specializing in research, analysis, and reporting aimed at different audiences. Here are three common types of research analysts in the financial investment field:
"Sell-side" analysts
The most popular active "sell-side" analyst today. Stockbrokers and investment banks employ them to analyze companies, write in-depth research reports, and conduct what is known as primary research. These reports are used to "sell" ideas to individual clients or financial institutions. A good "sell-side" report should present a detailed analysis of the company's competitive advantages, the leadership and expertise of its management, how the business is doing, and the valuation of public securities. company relative to competitors in the industry or the industry as a whole. A specific report also includes an income stream forecasting model and clearly outlines the assumptions needed to make those forecast numbers possible.
Input information is taken from the financial statements that the company submits to the State Securities Commission, meetings with the company's management, and if possible through talks and discussions with investors. company's suppliers and customers. This process is also repeated for competitors operating in the same industry, for the purpose of gaining insight into the performance of the industry and providing accurate information for the valuation of securities.
This process is called "fundamental analysis," because reports like these focus on the company's core operating values. This process is meticulous and labor-intensive and time-consuming, and so each "sell-side" analyst covers no more than three industries, out of 10 to 15 companies, and this depends on the industry. depending on the number of industries the analyst tracks.
The challenge for brokers is that generating these reports is very expensive in research and analysis. These firms seek to offset the costs of this research, but most of the offset comes from selling reports to investment banking deals. This causes brokers to focus only on really attractive deals, but ignore a series of other potential companies that do not analyze. That is why, once these reports are sent to the investment banks, it is easy for the reader to imagine that these reports often recommend "buy".
"Buy-side" analysts
"Buy-side" analysts are employed by fund management firms. Like "sell-side" analysts, their job is to focus on analyzing a few specific industries, the stocks in those industries, and make buy/sell recommendations.
However, "buy-side" analysts differ from "sell-side" analysts in three ways: they cover more stocks (30-40 shares), the reports they present are more concise (information usually only 1-2 pages), and these reports are accessible only to the fund's portfolio managers. "Buy-side" analysts can cover more stocks than "sell-side" analysts because they have access to "sell-side" reports. They also have the opportunity to participate in many industry and field seminars organized by "seller" companies.
Independent Analyst
Independent analysts are independent firms that provide analytical reports that are overlooked by investment banking deals. These independent analysts may focus on institutional clients, get paid to monitor stocks, and/or seek out new ideas that are overlooked by "sell-side" firms. In some cases, independent institutional analysts also have relationships with brokerage firms, and these analysts are paid for reports that brokers cannot provide to firms "buyers". A number of other independent analysts provide research reporting to both individual and institutional investors, through subscription and paid subscription access.
Job Description of Financial Analysts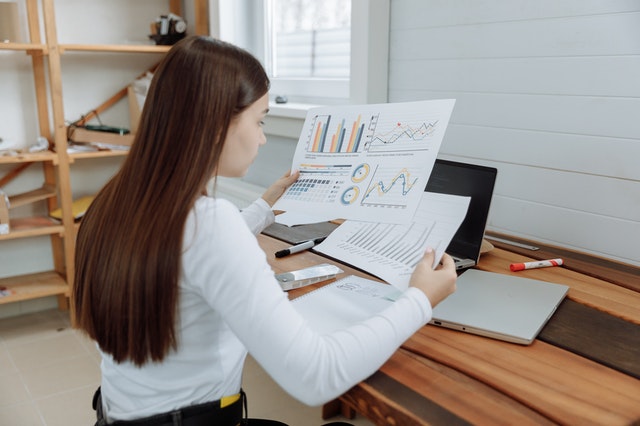 Play an important role in the overall economic development of companies and enterprises, what do financial analysts do? In other words, if the job description of a financial analyst is detailed, what will it look like?
Perform financial analysis of the business
This is the main job of financial analysts when working for companies and businesses today. In order to be able to give accurate advice and suggestions to the company's board of directors, financial analysts need to have an accurate grasp of the financial situation of the company and its business.
This capture is for the purpose of knowing where the company's current capital is, what investment issues it is suitable for, and how profitable its business form can be. These are the things that companies and businesses most want to receive from financial analysts. In addition, based on the analysis of the financial situation from the past up to Currently, financial analysts will make a detailed report on the current financial situation of the company or business. The report will outline the specific financial situation, opportunities, limitations, and forecasts based on the analysis process.
This job is also considered an integral part of financial analysis. In addition to the company's financial analysis, it is very important to analyze the world and domestic financial situation, the movement trend of cash flows, and the needs of the market/ customers. Through the analysis and assessment of these external factors as well as this direct impact, financial analysts will have more accurate information, ensuring a more feasible and realistic economical forecast.
Directly spot investment opportunities
Through their understanding, knowledge, and predictions, financial analysts will discover financial investment opportunities that are most suitable for companies and businesses. With that opportunity, they will make a plan to evaluate the advantages and disadvantages of investing in that opportunity. Identify possible financial performance trends and make specific recommendations when making this investment.
It is very important to detect investment opportunities because favorable conditions will not always come and be easily grasped. Therefore, it is necessary to have accurate forecasts and capture the right time.
Coordination of financial operations
For the most part, financial analysts will not work alone and have a specific team or support staff. They will perform the work of evaluating financial information and thereby make predictions about the future performance trend. In addition, the team will provide and use financial forecasting software and models to perform the work more efficiently. Because of that, the analysis will be more visible and the influence will be more noticeable. Therefore, the obtained forecasts will be much more accurate.
Realization of automated accounting application development
Financial issues will often be related to accounting. Therefore, the development of automated accounting applications will be essential for financial analysts. Because of these applications, productivity and work efficiency are greatly increased.
Above all, the application of automatic accounting is also an inevitable trend, and the development of this application software will increase the variety of functions and also damage the ability to handle the work of those applications. From there, there is a positive impact on work efficiency.
Essential Skills of a Financial Analyst
Essential skills of a financial analyst can include both technical and soft skills. When recruiting for related positions, organizations and businesses may require the following skill sets:
Technical skills
Accounting: To assess the financial status of a business, you need to have basic knowledge of accounting operations.

Finance: you need to know how to read financial statements to gain insights into the investment market. Also, understand the financial terms and processes in this area.

Analysis: Analytical skills are the core competencies of a financial analyst. You must be able to take data and make accurate forecasts, as well as identify and solve financial problems. Knowing how to use analytical tools is also important and can help improve your productivity.

Research: Conducting research is one of the key responsibilities of this position. An analyst needs to know how to conduct effective research to find & evaluate information.

Making reports: you need to be able to generate reports and document information for archiving and transmission to relevant stakeholders.
Soft skills
Communication: you need to be able to communicate to interpret your work and proposals to a wide variety of audiences in a way that they can understand. Similarly, you need to know how to send brief emails and make phone calls to discuss important financial information.

Presentation: after drawing conclusions about the future of the market, a financial analyst will need to present their insights to business leaders or their clients. Therefore, presentation is an extremely important skill.

Organization: you will be presented with a large amount of discrete data that you have to comb through to pick out what is important. This skill will help you turn raw data into usable data and manage other data.

Problem Solving: Ultimately, financial analysts must use their hard skills and intuition to solve problems. Critical thinking is required to transform the insights gained from data and analysis into action.
Skills have varying degrees of influence on an employee's salary. Below is a list of typical skills and how they affect the salary of a Financial Analyst in the US given by Payscale.com:
It can be seen that skills in Financial Analysis, Financial Reporting, and Financial Modeling help candidates earn above-average salaries. Besides, Excel skills are also extremely important, receiving a lot of feedback from candidates. Studying for international certifications such as a CFA also helps you build and strengthen these skills.
How to become a financial analyst?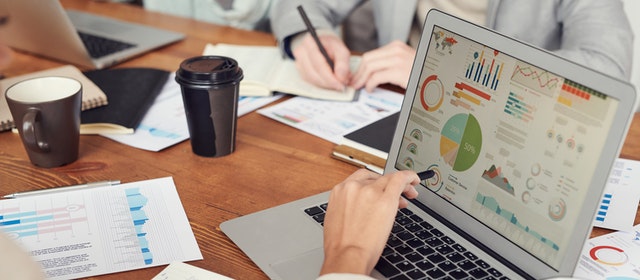 Becoming a financial analyst is never easy for any individual. Below are typical steps that you should keep in mind in case you want to become a financial analyst.
Step 1: Earn a Bachelor's Degree
Gaining a bachelor's degree is the foremost imperative step a future money-related examiner takes towards accomplishing his or her objectives. While common courses in financial matters, insights and other related areas can be important to the field of monetary investigation, a more focused degree may be perfect. For example, a Bachelor's degree within the field of Finance can be perfect for people who are seeking a career in the field of financial analysis.
Step 2: Get Licensing and Certifications
Numerous bachelor's degree graduates start their careers working in bookkeeping, speculation, or keeping money firms. While extra certifications may not be vital at the start of their work encounter, numerous experts get licenses and assignments later in their careers.
The FINRA (which stands for the Financial Industry Regulatory Authority) requires substances beneath its domain to comply with its directions. These indicate that monetary investigators must be authorized by the Financial Industry Regulatory Authority. As a result, numerous managers are directed towards budgetary examiners who are as of now FINRA-licensed. Indeed in cases where FINRA permitting is required, in any case, planned enlisted may not be required to be authorized earlier to accept an offer of business. Concurring with the BLS (stands for the Bureau of Labor), most companies will consider unlicensed work candidates in case their other capabilities show they are a great fit for a particular part.
Many employers prefer candidates with CFA certification, even if they are not licensed by FINRA because CFA is considered a prestigious financial analyst certification. Therefore, if you are interested in pursuing a career related to financial market analysis, the CFA is the right choice for you. In fact, financial companies, securities, and investment funds today, when recruiting, also highly appreciate candidates who have CFA certificates, at least CFA Level 1. CFA also has high credibility for candidates with positions within and outside the financial services industry. However, to be licensed, you have to pass lots of strict CFA exam requirements.
Concurring to the Bureau of Labor Statistics, the necessities for becoming a financial analyst include:
A bachelor's degree related to accounting

A least 4 years working experience in the financial field

Passing scores on the 3 CFA exams

Financial examiners may moreover accomplish certification in more specialized zones by illustrating their skills and passing extra exams.
Step 3: Gain More Working Experience
Clearly, it's critical to have both the proper instruction and any required permitting and certifications for the purpose of becoming a financial analyst. It's moreover important for potential financial analysts to urge work encounters within the financial industry.
Step 4: Get an Accounting Master's Degree (Optional)
While on-the-job encounters are fundamental, monetary examiners have extra choices for invigorating their resumes. Numerous select to progress their information in order to extend intrigued from potential managers by getting a master's degree. Many experts get an MBA, but it is not always required.
How to become an excellent financial analyst?
Becoming an excellent financial analyst requires many different factors, besides having good qualities, it also requires regular study and practice. So, what does a financial analyst need to do to improve his or her analytical ability?
Understanding of macroeconomics and characteristics of each industry
The financial position of an enterprise is greatly influenced by macroeconomic conditions, so an analyst must have a thorough understanding of theoretical knowledge about economics, financial markets, and the ability to read and reason. interpret macroeconomic indicators on a regular basis, thereby building an overall perception of the ongoing realities of the macroeconomy.
Financial analysts also need to be knowledgeable about the economic – technical characteristics of each business industry, for example Industry value chains, industry segments, competitive advantages, the financial situation, etc. That's why usually the financial analyst is most knowledgeable only in the industries in which he researches the most. Expanding analytical capabilities to other businesses will require time and effort to learn and research.
Understand areas related to corporate finance
Knowledge of accounting and accounting tricks: It would be naive to believe completely in the financial data provided by a business because many businesses use tricks on accountants to process financial data. Therefore, a financial analyst must be knowledgeable about accounting operations, have operations to check and diagnose the accuracy of financial data and adjust financial data to suit the purpose. analysis.
In addition to understanding financial and accounting operations, financial analysts need to be knowledgeable in many related areas of the business. In an enterprise, there are basic functions such as Human resources, production, finance, marketing, and strategy. The financial analyst will have to be equipped with all this knowledge, especially the analyst must be very knowledgeable about the knowledge of competitive strategy to apply in the analysis of moves. of competitors in a given industry.
Build a good database
The most difficult thing in financial analysis is to have standards of reliable industry averages as a basis for comparing and determining the financial ratios of enterprises. Therefore, building industry averages and understanding the financial situation of companies in an industry are essential to identify which companies in the industry are doing well and which companies are doing well.
Practice reading and analyzing financial statements
Financial analysts need to constantly read the financial statements (and annual reports) quarterly, and annually of hundreds of companies across a variety of industries. If an individual does not regularly read and comment on the financial position of businesses in many economic sectors, he will soon lose his analytical sensitivity. 
Anticipate future prospects and plan solutions for the business: A good financial analyst, when finished analyzing a business, will have to point out the strengths and weaknesses of the business, solutions, and steps. necessary steps to improve the company's market position, financial position, and competitiveness.

Regularly follow up and exchange with practitioners at the enterprise: Sources of information from exchanges with practitioners help analysts to verify that their judgments about the industry are close to reality. practical or not and also discover the problems that businesses in each industry are facing.

Regularly read books and write regular analysis reports: Financial research and analysis capacity will be directly proportional to accumulated knowledge and experience. Financial analysts should regularly strengthen their analytical skills in collaboration with financial journals or publications to continuously write and test their analytical knowledge.
The most attractive fields for financial analysts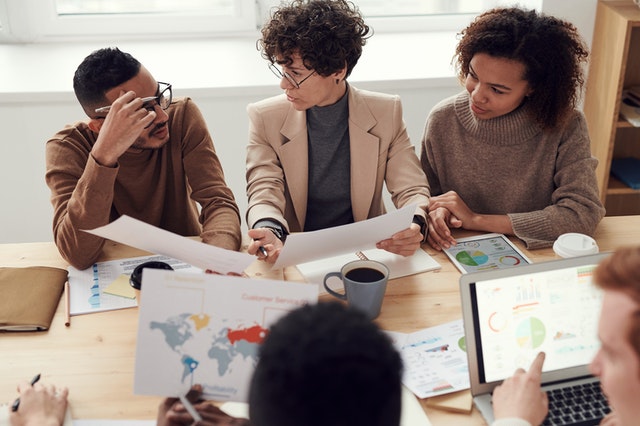 Within the US, job opportunities in the position of a financial specialist are also quite open. The hottest industries that are suitable for you include:
Insurance 
Insurance is a growing and growing industry today. In our country, there are a total of 18 large, well-known insurance companies with branch systems spread across provinces and cities. Currently, the insurance industry desperately needs Financial analysts to help them do financial analysis for businesses. At the same time, making business plans for new insurance products to promptly meet the increasing needs of customers.
Banking and finance
The finance and banking industry in our country develops strongly and sustainably. It can be said that this is the industry that gathers the most talented financial analysts today. The nature of the job in the banking and finance sector is in dire need of recruiting Financial analysts. Financial analysts will play an important role in the growth of the business. Because they are not only the ones who develop development plans suitable for the bank but also advise and give investment directions to customers in the fields of insurance, securities, etc.
Real estate 
Financial Analyst real estate is also quite an attractive profession in the current economic times. In this position, a Financial analyst plays the role of a Project Investment Specialist with the ability to analyze the feasibility and effectiveness of real estate projects that the company is about to implement. If you do well in this position, you can earn a great income from the position of financial analyst in real estate companies.
Government finance
Government agencies also always need Financial Analysts, especially those who specialize in macroeconomics. Work includes supporting government investments by analyzing economic data and trends. And may sometimes be called upon to help identify fraud and other illegal activities.
5 Prestigious Certificate for Becoming a Financial Analyst
CFA Certificate
CFA Certificate (also known as Chartered Financial Analyst) is a certification specifically for professional financial analysts in the fields of Securities, investment, risk management, banking, and finance. CFA certification is highly regarded by companies, professional financial analysts, investors, and business organizations worldwide. The CFA program focuses on portfolio management skills and financial analysis, applicable to different asset classes, as well as providing general knowledge in the financial sector. 
ACCA Certificate
ACCA stands for The Association of Chartered Certified Accountants – The Association of Chartered Certified Accountants, has brought to accounting, finance, and auditing professionals a globally recognized professional program. Today, ACCA is one of the fastest-growing professional organizations in the world.
ACA Certificate
The ACA program is one of the most professional learning and professional development programs available, widely recognized in accounting, finance, and auditing circles around the world. The ACA was established by the Royal Charter in 1818. It currently has 140,000 members based in 165 different countries. 67% of the 100 UK FTSE companies have at least one ACA member securing senior positions within the company.
CMA Certificate
The Certified Management Accountant (CMA) course is a training program for professionals in management accounting and corporate financial management. Provides essential skills for professional CFOs. The CMA degree in management accounting is awarded by the Institute of Management Accountants (IMA), a globally recognized professional body. CMA accounting certification has global value, recognized by multinational corporations.
CIMA Certificate
CIMA (Character Institute of Management Accountants) – The British Association of Chartered Management Accountants was founded in 1919 in over 179 countries around the world. The CIMA degree is globally recognized in financial management and strategic management. The CIMA degree provides learners with highly practical knowledge that will help them succeed in management positions.
To sum up, your aptitude, desire, and even strategy will all play a role in how to become a financial analyst. A career as a research analyst may be the best fit for you if you are a detail-oriented individual who wants to become an authority in a certain sector or industry. Although this is a niche job and few people are aware of what you perform, the precious reward it gives is your significant contribution to the expansion of the company. We really hope that this information will be helpful to you as you begin the process of becoming a financial analyst.