Deciding between CCSP (Certified Cloud Security Professional) and CISSP (Certified Information Systems Security Professional) can present a challenge since both certifications are closely related and developed by (ISC)². Indeed, they vary in terms of their focus,  prerequisites, exam format, jobs, salary, and opportunities they provide for career advancement.
In this article, we will provide an overview of these two certifications and the differences between CCSP vs CISSP as well as offer guidance on selecting the most suitable option for you.

What is CCSP?
The CCSP Certification is regarded as a top-tier accreditation in the field of cloud security and is internationally recognized as a premier credential. By attaining the CCSP certification, you validate your expertise and practical experience in various aspects of cloud security, including architecture, operations, design, and service orchestration.
This certification is specifically designed for individuals who can demonstrate their advanced technical skills and comprehensive knowledge necessary to effectively develop, administer, and protect data, applications, and infrastructure within cloud environments. Adhering to industry best practices, standards, and procedures, CCSP professionals ensure that cloud-based systems are secure and meet the highest security standards.
What is CISSP?
CISSP esteemed certification validates the proficiency of security professionals across ten key areas, encompassing access control systems, business continuity planning, disaster recovery planning, physical security, operations security, management practices, and telecommunications and networking security.
The CISSP certification comprehensively covers a wide range of topics, including cryptography, security architecture, application and systems development, law, investigation, and ethics, among others. Attaining the CISSP credential is a significant milestone in advancing one's career in the cybersecurity field. It demonstrates expertise in designing, implementing, and maintaining highly robust cybersecurity programs that can be relied upon with utmost confidence.
What are the similarities between CCSP vs CISSP? 
Although there are differences in the content and structure of the exams, as well as the associated costs, there are also notable similarities between these certifications. The CCSP and CISSP certification programs, both developed by (ISC)², offer valuable benefits to security professionals. Moreover, they have a duration of three years and require similar renewal requirements. Additionally, regardless of holding one or both certifications, members are required to pay an Annual Maintenance Fee (AMF) of $125.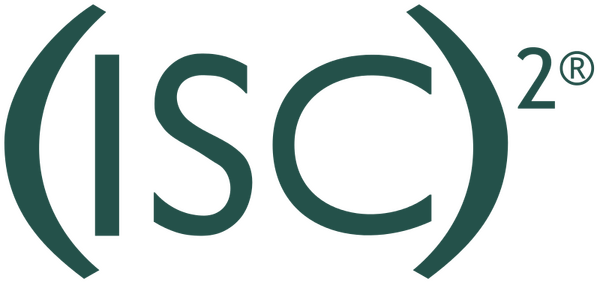 It's important to delve deeper into the specifics of CCSP and CISSP to better understand their unique features and advantages. By exploring their respective domains of knowledge, examination formats, and costs, security professionals can make informed decisions about which certification aligns best with their career goals and aspirations.
What are the differences between CCSP vs CISSP?
Prerequisites
To qualify for the CCSP certification, candidates must possess a minimum of five years of paid work experience in the field of information technology. Out of these five years, at least three years should be dedicated to information security, while one year should be focused on one or more of the six domains outlined in the CCSP CBK (Common Book of Knowledge):
Cloud Concepts, Architecture, and Design

Cloud Data Security

Cloud Platform & Infrastructure Security

Cloud Application Security

Cloud Security Operations

Legal, Risk, and Compliance
However, candidates can substitute one year of experience in the CCSP CBK domains by earning the CCSK (Certificate of Cloud Security Knowledge) certification from the CSA (Cloud Security Alliance). Alternatively, possessing the CISSP (Certified Information Systems Security Professional) credential from (ISC)² can fulfill the entire experience requirement for the CCSP certification. Candidates lacking the necessary experience for CCSP can still take the CCSP exam to become an Associate of (ISC)². As an Associate, they will have six years to acquire the required five years of experience.
On the other hand, individuals aspiring to become CISSP-certified must have a minimum of five years of paid work experience in at least two of the eight domains covered by the CISSP CBK:
Security and Risk Management

Asset Security

Security Architecture and Engineering

Communication and Network Security

Identity and Access Management (IAM)

Security Assessment and Testing

Security Operations

Software Development Security
Having a four-year college degree, a regional equivalent, or an additional certification from the (ISC)² recognized list can satisfy one year of the required experience. In the case of education credit, just one year of experience is sufficient. Candidates lacking the necessary experience for CISSP can still take the CISSP exam to become an Associate of (ISC)². Similar to CCSP, Associates have six years to fulfill the requisite five years of experience.
Both the CCSP and CISSP certifications are valid for three years and necessitate the acquisition of 40 continuing professional education credits (CPE) annually, totaling 120 credits over the certification period.
Exam Format
The CCSP exam is a three-hour assessment that necessitates achieving a minimum score of 700 out of 1000 points (70%) in order to pass. It consists of 125 multiple-choice questions, with the distribution of questions evenly spread across the six domains mentioned earlier. However, there are two exceptions in terms of weightage: Domain 2: Cloud Data Security comprises 19% of the exam, while Domain 6: Legal, Risk, and Compliance accounts for 13%. The exam fee is $599.
In the updated 2022 version of the exam, the sole difference lies in the adjusted weight distribution among the domains. Domain 2: Cloud Data Security has been increased to 20%, and as a counterbalance, Domain 5: Cloud Security Operations has been reduced to 16%.
The free CCSP Certification Questions is an online material providing a range of questions and diagnostic tests to help you achieve your goal.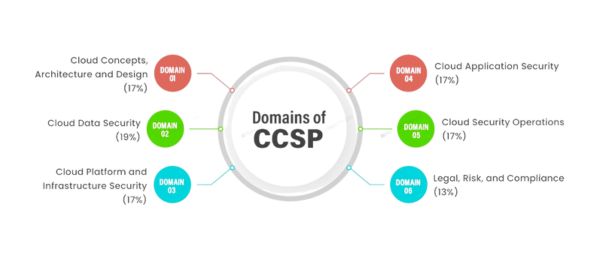 Regarding the CISSP exam, it underwent a recent update on May 1st, 2021, which shares a similar format with the CCSP exam. It is also a three-hour exam that requires a minimum score of 700 out of a possible 1000 points to pass. The exam fee for CISSP is $749.
The number of questions in the CISSP exam can range from 100 to 150, comprising a mixture of multiple-choice and "advanced innovative items," which involve drag-and-drop style questions. It's important to note that these questions do not require writing in answers. The CISSP exam can be taken in English, Chinese, German, Japanese, Korean, and Spanish.
As of this article, the examination weights across the eight CISSP domains are as follows:
Security and Risk Management: 15%

Asset Security: 10% 

Security Architecture and Engineering: 13%

Communication and Network Security: 13%

Identity and Access Management (IAM): 13%

Security Assessment and Testing: 12%

Security Operations: 13%

Software Development Security: 11%
To succeed in all of these eight domains may also take a considerable amount of time, CISSP Practice Exam supplying a comprehensive collection of prep questions and simulation exams can be a great choice for your preparation.
Jobs and Roles
(ISC)² is committed to maintaining the CCSP certification's relevance for its members. The Job Task Analysis (JTA) is a systematic and essential approach used to identify the core responsibilities performed by CCSP security professionals on a regular basis. The insights gathered through the JTA process are instrumental in ensuring that the CCSP exam remains up-to-date. This ensures that candidates are assessed on topics that are pertinent to the tasks and duties of today's information security professionals working with cloud technology.
CCSP job titles encompass a variety of roles, including Enterprise Architect, Security Administrator, Security Architect, Security Consultant, Security Engineer, Security Manager, Systems Architect, and Systems Engineer.
Similarly, (ISC)² upholds its responsibility to members in keeping the CISSP certification relevant. The Job Task Analysis (JTA) is a comprehensive and crucial process that identifies the tasks performed by security professionals within the CISSP field. The findings from the JTA process are utilized to continuously update the research content. This ensures that candidates are evaluated on topics that align with the current responsibilities and duties of information security professionals in practical scenarios.
The CISSP certification is designed for experienced security practitioners, managers, and executives who seek to demonstrate their expertise in a wide range of security principles and techniques. Typical job titles associated with CISSP certification include Chief Information Security Officer, Chief Information Officer, Director of Security, IT Director/Manager, Security Systems Engineer, Security Analyst, Security Manager, Security Auditor, Security Architect, Security Consultant, and Network Architect.
Salary
When comparing the salaries associated with these certifications, we find that CCSP professionals earn an average annual salary of USD 100,800, as reported by Glassdoor. On the other hand, the annual average wages for CISSP professionals range from USD 80,540 for an Information Security Analyst to USD 110,451 for a Security Architect, according to research conducted by PayScale.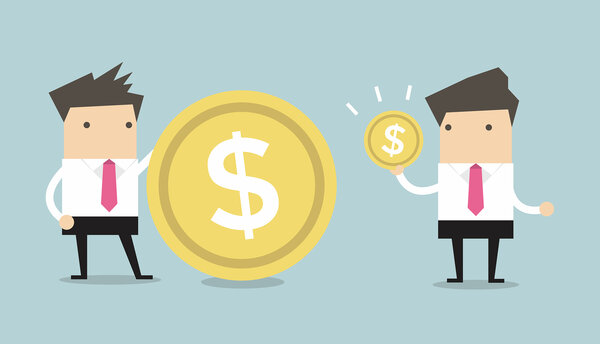 Career opportunities
By obtaining the (ISC)² Certified Cloud Security Professional (CCSP) certification, you will embark on a journey to become an expert in cloud security. This esteemed accreditation equips individuals and businesses with the highest level of cloud security expertise. Following best practices, regulations, and procedures established by (ISC)², the leading authority in cybersecurity, you will gain the necessary technical knowledge and skills to effectively design, manage, and secure data, applications, and infrastructure in the cloud.
(ISC)² maintains a fair and inclusive hiring policy, where all eligible applicants are considered for employment without any discrimination based on race, religion, color, national origin, gender, gender identity, sexual orientation, age, status as a protected veteran, or status as a qualified individual with disabilities. CISSP members are committed to taking affirmative action in recruiting qualified individuals for positions as government contractors in compliance with Executive Order 11246. Additionally, statistical information regarding hiring practices is reported to various government agencies.
As part of the application process, applicants are requested to provide information on their gender, race, and ethnicity by completing and submitting the Voluntary Self-Identification Information form. The submission of this information is entirely voluntary, and it will be treated as confidential in accordance with applicable laws and regulations.
Choosing the Right Certification: Factors to Consider Before Making a Decision
The choice of CCSP vs CISSP ultimately depends on the individual's goals and aspirations. CISSP is ideal for those aiming to advance their career by transitioning into management positions, whereas CCSP allows individuals to remain focused on technical aspects. Additionally, obtaining a CISSP credential fulfills the entire experience requirement for CCSP.
In short, choosing the right certification is a decision that requires careful consideration. To help guide your decision-making process, here are a few factors worth considering.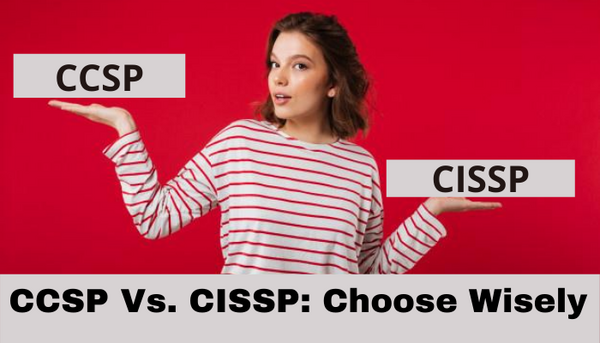 Your career path
Although both certifications fall within the realm of cybersecurity, the CISSP certificate demands a wider and more comprehensive comprehension of diverse cybersecurity subjects. It paves the way for cybersecurity professionals to eventually assume management positions overseeing cybersecurity programs.
On the other hand, the CCSP certification focuses more specifically on cloud security and architecture. While this specialization narrows down your scope within cybersecurity roles, it also provides opportunities to pivot toward cloud-specific positions.
If you have intentions of obtaining multiple certifications, selecting the CISSP certification is likely the more favorable choice. This is because certifications such as the CCSP, among others, are considered extensions of the CISSP certification.
Your experience
It is crucial to carefully consider whether you meet the eligibility criteria for both certifications. The CCSP certification requires a minimum of five years of professional experience, including three years in information security and at least one year in one or more of the six domains covered in the CCSP CBK. On the other hand, CISSP requires five years of professional experience in at least two of the eight domains of information security.
Your time
From a practical standpoint, the CCSP certification offers a more defined path, with a strictly multiple-choice exam format and a smaller number of domains to study. Typically, individuals require around 120 days of study to prepare for the CCSP exam. In contrast, CISSP candidates usually need 3-6 months to study for the exam and complete the course.
The salary
When considering salary, it is important to take into account the types of roles these certifications can enable. CCSP certification validates a more contemporary skill set, and the corresponding roles may have a lower starting salary. 
However, CISSP certification validates a broader range of cybersecurity experience and can open doors to managerial positions, offering a higher salary potential. On the other hand, if you are starting from an entry-level position, your salary may be significantly lower without the CCSP certification.
Continuing cybersecurity education is ongoing
If you anticipate a long-term commitment to the cybersecurity field, it's essential not to overly stress about your decision. Both certifications offer significant benefits, so there is no incorrect choice.
Keep in mind that the CCSP certification validates expertise in cloud security and architecture, which holds significant importance for organizations across various sectors. It can provide you with an opportunity to leverage this expertise beyond the boundaries of traditional cybersecurity roles.
FAQs
Should I take CISSP or CCSP first?
Both CCSP and CISSP require at least five years of paid job experience, therefore it should come as no surprise that if you want to acquire all three certifications, you should start with SSCP. At least 95% of people seeking these certifications should acquire the CISSP last.
Is the CCSP harder than CISSP?
The CCSP exam is not more challenging than the CISSP because the CISSP is regarded as harder. They also believe that CISSP is more difficult and requires more in-depth knowledge than CCSP.
What is the hardest cyber security certification?
The Certified Information Systems Security Professional CISSP is often regarded as the most difficult security credential to get. This certification necessitates at least five years of expertise in the field of information security and passing an extensive exam.
Should I take the CCSP?
Becoming a CCSP may allow you to advance into a better, higher-paying position. However, it may also have other advantages. Develop new skills: Preparing for the CCSP certification test could also serve as a more structured approach to developing your vendor-neutral cloud security skills.
How many people fail the CISSP?
If you have this cyber security course certificate, you will be considered one of the most desirable candidates by various employers. Passing this exam is difficult, which is why you must prepare thoroughly. However, on average, 50% to 60% of those who take the exam pass.
Conclusion
Ultimately, the best choice depends on your individual career aspirations, the industry you work in, and the specific job roles you aim to pursue. Consider evaluating your long-term goals and assessing which certification aligns most closely with your desired career path. Regardless of which certification you choose, both CCSP and CISSP offer significant opportunities for professional growth and advancement in the ever-changing field of cybersecurity.