The only exam given more often than once per quarter by the CFA Institute is the CFA Level 1 examination (February, May, August, and November). Students will have an understanding of the principles of the financial business after completing this course. In Level 1, we investigate ethical standards as well as various investment tools. In order to answer specific problems about the CFA level 1 pass rate, analysis is necessary.
The 2019 CFA Level 1 examination is a written test consisting of 240 multiple-choice questions that must be finished within six hours. It is anticipated that by 2021, the CFA Level 1 exam will transition to a computer-based format, consisting of 180 multiple-choice questions to be completed in 4.5 hours. Take for instance the question, "What is the phrase for the amount of time it takes for an investment fund to complete a repurchase request?"
Data on CFA Passing Rate Over Time
Below is a table that provides a quick glance at the CFA pass rates for the last ten years, finishing during the year 2020. A projection of the data through 2021 can be seen in the chart that is located above. Once we get the data for November 2021, we will look at the 10-year pass rates again and make adjustments accordingly.
Between the years 2003 and 2019, the Level 1 examination was administered twice yearly. These pass rates for CFA Level 1 are an average of the two outcomes since both exams were administered during the same calendar year. The passing % for this year is derived from the results of just one Level 1 exam, which was given in the month of December.
CFA Level 1 Pass Rate
The percentage of people who pass the CFA Level 1 exam has been 42 percent over the last decade. The fact that more and more people are passing it despite its difficulty is a positive trend. In addition, the percentage of students who passed the exam in December 2020 was just 49%, which was a bit of an exception.
Despite the large decrease in the number of candidates (26,212 in 2020 compared to 157,000 in 2019), the overall performance of those who did take the test was pretty satisfactory. Even if this trend keeps on expanding far into 2021 and beyond, the outcome is not yet a foregone conclusion.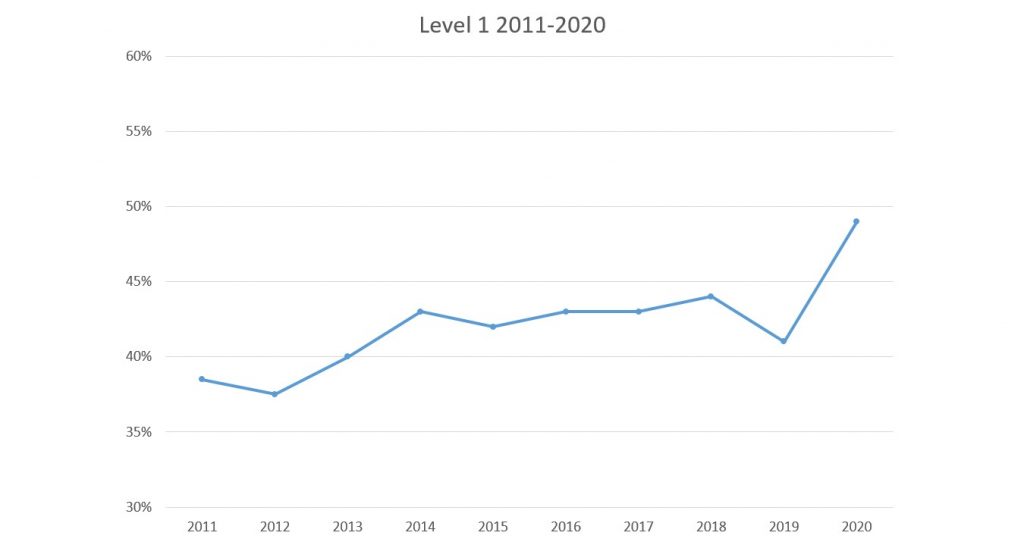 Level 1 CFA Exam Pass Rates (2015 – 2022)
| | |
| --- | --- |
| Level 1 CFA Exam | Pass Rate |
| Feb 2022 Exam | 36% |
| Nov 2021 Exam | 27% |
| Aug 2021 Exam | 26% |
| July 2021 Exam | 22% |
| May 2021 Exam | 25% |
| February 2021 Exam | 44% |
| December 2020 Exam | 49% |
| June 2020 Exam | postponed |
| December 2019 Exam | 42% |
| June 2019 Exam | 41% |
| December 2018 Exam | 45% |
| June 2018 Exam | 43% |
| December 2017 Exam | 43% |
| June 2017 Exam | 43% |
| December 2016 Exam | 43% |
| June 2016 Exam | 43% |
| December 2015 Exam | 43% |
| June 2015 Exam | 42% |
The level 1 CFA exam pass rate in FEB 2022 was recorded at the proportion of 36%, which is an improvement above the dismal level 1 CFA examination pass rates recorded in the year 2021. However, the typical passing rate for level 1 CFA exams in the past was just 43%, which is still a smaller percentage than this. The CFA level 1 examination has had a pass rate of 41% over the last ten years, from 2013 to 2022. (the period covered by this statistic). Due to the very low pass rates in 2021, it is presently declining from its previous level of about 43 percent, which is maintained for a considerable amount of time.
In recent years, the percentage of candidates who passed the CFA test has been appallingly low. According to statistics provided by the CFA Institute, the proportion of people who were successful on the most current iteration of the CFA Level 1 test, which was administered in July 2021, was the lowest it has ever been. It was understood that this was the beginning of a pattern that has since been reversed.
The question of whether or not the trend of passing rates leveling out at around 43 percent will continue to hold true in the future is an intriguing one. The level 1 pass rate for December 2020 was 49 percent, which was actually a little bit higher than what was projected. On the other hand, the proportion of individuals who passed the level 1 CFA exam in February 2021 was just 44 percent.
The percentage of students who passed Level 1 exams in May, July, August, and November all saw large drops. It's not as if the proportion of people who pass the level 1 CFA exam has been around 43 percent for the whole of its existence and then all of a sudden fallen below that mark. When compared to the pass rates of prior years, which were closer to 30 percent than 40 percent, the level 1 pass rate of 36 percent on February 22 is a good and promising statistic.
The CFA Institute has not offered any explanation as to why the pass rate for the CFA Level I test is much lower when compared to the pass rate for the exam that came before it. Or, maybe we should place a greater priority on compensating our CFA candidates in some way, both those who are accepted and those who are not, regardless of the outcome of their applications.
As a result of the considerable amounts of time and money that candidates have put into their CFA applications in the hopes of avoiding a disastrous outcome, there is a tremendous deal of anxiety among the CFA community. A word of caution if you are thinking about taking the CFA exam: in order to be successful, you absolutely need to have a well-defined and in-depth study approach.
According to the CFA Institute, it's little more than a minor hiccup brought on by pandemic disturbance. As long as the pandemic conditions continue to improve, we anticipate that the pass rate will return to the historical levels it had before the COVID outbreak. She tells us that candidates for the CFA inform them that the minimum passing score (MPS) for the four prior 2021 level 1 CFA examinations must have been at least 70 percent.
Why is CFA Level 1 Passing Rate So Low?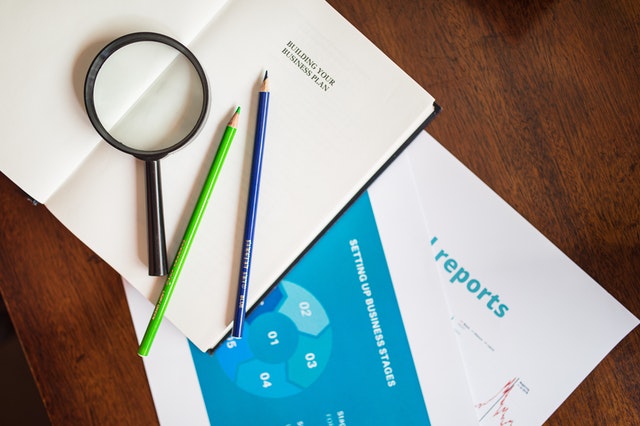 Because of COVID-19, a number of professional examinations had to be postponed, which resulted in a backlog of enrolment that lasted for many months. CFA candidates, in contrast to applicants for many other professional tests, have already experienced some level of inconvenience ever since the CFA Institute stated in March 2020 that the June 2020 exams will no longer be administered.
For some candidates, their registration was initially postponed until December 2020, but it was later moved to a later date. In point of fact, the majority of CFA candidates who sat for the exams in May and July 2021 had to wait for anything from a year and a half to over 18 months before being able to take the exam, which had been rescheduled three times in some cases. In order for these people to be able to remember knowledge for an increasingly indeterminate amount of time, they were regularly required, through no fault of their own, to alter the ways in which they approached the process of learning.
It is difficult to maintain concentration in these environments, and it is possible that many candidates suffered because the environments in which they attempted to study were insufficient. The CFA Institute's own comments on the test results seem to support this scenario, but they also hint that pass rates will recover in the future, since the last group of postponed applicants is scheduled to take their tests in November 2021. This information suggests that this scenario is likely to occur.
After the record low CFA level 1 pass rates of the May and July tests, we have been tracking our own internal data on how candidates are doing on Kaplan Schweser mock examinations. These examinations were given in May and July. This data lends credence to the CFAI conclusion that candidates who have had their access to Schweser products extended as a result of test delays had, on average, worse scores on mock exams compared to candidates who are brand new to the program.
It is much more probable that this is because of exhaustion from studying than it is because of a lack of skill. In spite of our efforts to make free Masterclasses available to candidates, several candidates have reported that the disruptions in their normal study routines caused by this period have made it difficult for them to keep their attention and continue making progress in their studies.
Estimated CFA Level 1 Passing Score 
CFA level 1 pass rates in 2021 have fluctuated from 56 percent to 74 percent during the length of the study period from 2012 to 2021, with an average of 64 percent over the course of that time period. The estimated passing score for CFA level 1 is a score of at least 64 percent. The most current Multiple-Choice Questions (MPS) for the CFA Level 1 Exam are as follows:
November of 2021: 72%

August of 2021: 71%

July of 2021: 73%

May of 2021: 74%

During the months of February, March, and April in 2021, 72% of the population was surveyed.
Since the introduction of computer-based testing (CBT), our estimations indicate that MPS has consistently surpassed 70% of the population (CFA level 1 pass rate 70). A candidate who is considered to have "just adequate" skills is projected to obtain a minimum passing grade that is anticipated to remain consistent over time, regardless of whether the year is 2010, 2015, or 2020. To put it another way, if the MPS has truly increased to 70 percent or more, the CBT exam format is less time-consuming to complete than the prior paper-based version.
In the past, applicants were advised to strive for a 70 percent score on their mock tests as a general rule of thumb. According to the most up-to-date estimates provided by the MPS, this is no longer the case. A probability of 75 percent or above in 2021, according to the most current MPS, would be a far safer investment.
Due to the findings of our MPS analysis, which showed that the topic weightings as well as the 90th percentile and 10th percentile were the same as for the February 2021 examinations, the CFA exams that were scheduled for this year in March and April 2021 have been consolidated into a single exam. What this indicates is that:
On February 21, March 21, and April 21 we used the exact same exam, the exact same percentage mixing of subjects, and the exact same pool of problems.

The same candidate cohort was utilized in the calculations for the most probable score, the 90th percentile, and the 10th percentile on February 21, March 21, and April 21 respectively. It is likely that March 21 and April 21 merely pulled applications from the same pool, which is allowed according to statistical standards. This is because February 21 had a large number of applicants.
The CFA Institute Board of Governors is responsible for determining the minimum passing score (MPS) for each level after each administration of the exam. This approach guarantees that all candidates are treated equitably since it takes into consideration the degree of difficulty of each exam when determining a participant's MPS. The MPS as well as the individual candidate scores that were received during this examination are not made accessible to the public by the CFA Institute.
Following the exam, the CFA level 1 results will be available for about one year. After this point, a participant may confirm their status with the CFA Program by generating and downloading a validation letter from the Verification Letter section of their Account Profile. The verification letter will certify whether or not the test was passed with a "pass" or "fail" grade, but the written confirmation for the specific subject area will not be made public.
Tips to Improve CFA Level 1 Pass Rate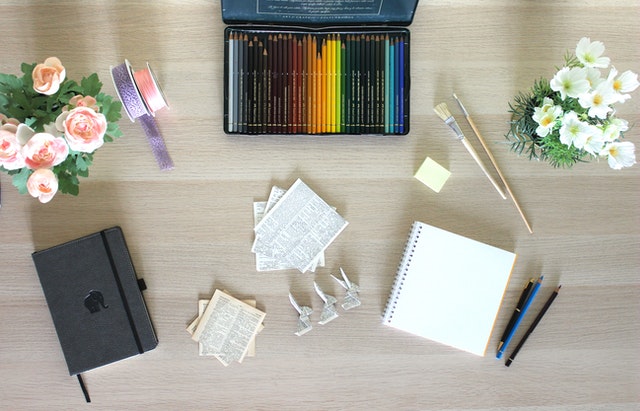 Although the CFA test is known to be difficult, there are still ways you may improve your probability of gaining a better score. Please remember that it is not a "cheat sheet," but rather a guide to help you prepare for the exam. But if you follow these guidelines, you will indeed be adequately equipped for the CFA test.
Make the Most of the Time You Have 
The Wiley CFA Exam Review might be of use to you in organizing your work schedule. It is anticipated that candidates would need to spend 307 hours preparing for the CFA exam. Your first stop should be the page that details the tests that are currently being administered by the Institute.
Because the needs for preparation vary from person to person, it is essential to evaluate your own specific circumstances before coming to any conclusions or making any choices. One of the commentators on the Analyst Forum said that "We're not talking about community service here," and that "individuals learn at various speeds and start at varying degrees." "The number of hours spent is less important than the quality."
In your study plan, you should set aside some time for the possibility that something unexpected may come up. Additionally, you should make sure that both you and your family are ready to handle the significant (but temporary) time commitment that the test will need. Also, don't forget to keep track of your progress; there may be a few obstacles in your path along the road. You could even give some thought to pulling out both of your eyeballs from time to time. Depending on how you want to organize your information, you may choose to keep track of your previous achievements and planned objectives using Excel, an application, or even just a pen and paper.
Optimize Your Studying Method
It is essential for you to have a designated area in which you may study in peace and quiet. Some of the people who have applied are able to do their schoolwork in the evenings and on the weekends at a home office or a spare room. For others, a quiet coffee shop or library may be more conducive to learning about Fixed Income; one individual even realized that the 10-hour train ride to Paris and back provided the perfect environment for learning about Fixed Income.
Ensure that the setting in which you study is one that allows you to concentrate fully and produce high-quality work. It is OK to do whatever it takes, whether it is spending a few months in the basement of your parents' house or becoming a zombie at the library.
Many students choose to attend their classes in person rather than online. These programs make it easier to form study groups and keep on track with your studies, and they may also act as a place for networking opportunities. In addition, a good teacher should be able to devise strategies that make the material easier to digest and reduce the complexity of complex subjects.
Ahead of Time: Don't Worry, Just Prepare
The process of getting ready for this exam is not a competition. A cram session would not make any sense in the few weeks leading up to the test since there is just too much information to cover. A reasonable rule of thumb is to complete all of your assigned courses around one month before the exam. Make use of the remaining time to take CFA Level 1 Mock Exam, revise, and concentrate on difficult topics, as needed. One approach that might be taken is outlined below.
When it comes to practice tests, try to be as realistic as you possibly can. Make certain that you have the same amount of time and that you are using the same calculator as you will on the day of the exam. Make sure that you are aware of the rules that are provided by the CFA, as well as the ways in which you may avoid the issues that some test-takers have faced in the weeks leading up to the exam.
Avoid Cramming the Night Before the Exam
In order to be well-prepared for the test, it is best to go over the material that you are already familiar with rather than cramming for the information that you will need at the very last minute. If you've done your study, you should be able to answer any questions that are asked about the subject that's been given with complete assurance. Make sure to give yourself some time to relax and study less intensely in the days coming up to the exam. You should put most of your energy into doing things that boost your sense of self-worth and confidence. Exams may be a difficult experience; thus, you shouldn't place any more pressure on yourself.
Ethics Must Not Be Neglected
Candidates have been known to approach the Ethics section with a certain degree of complacency, maybe because they believe that all it needs is common sense on their part. On the other hand, don't. "Ethical and Professional Standards" was rated as "tough" or "very difficult" by 63 percent of those who took the exam in June 2014, which is virtually the same number as those who rated "Economics and Financial Reporting and Analysis."
Do not make the same error when it comes to Ethics since very few people have the expectation that any of those aspects would be simple. In order for you to differentiate between the multiple possibilities, which usually involve two or more strategies that seem to have similar levels of credibility, you need to have an in-depth familiarity with the subject matter.
Take Advantages of Your Study Materials
The majority of candidates for the CFA exam use Kaplan Schweser as their primary educational resource. Example exams, quick-sheet formulas, a library of online resources, and a thorough study plan are all available to candidates via Kaplan Schweser's candidate assistance program. In addition, the CFA Institute allows visitors to their website to obtain a free practice exam appropriate for each level of the certification program. This is a wonderful instrument for calibrating your preparation, and it is the closest approximation you can approach the actual exam in terms of the difficulty and tone of the questions.
Practices Make Perfect
Many students have a solid understanding of the concepts covered in their coursework, but they struggle when it comes time to apply those concepts in the real world. In order to conduct an appropriate assessment of your skills, you need to put in at least five hours of practice on each concept. Candidates may choose to organize their chapters in a variety of ways, including using a list format or a narrative approach that links themes in a manner analogous to a chain of causes and effects. Examiners for the CFA Program believe that a candidate has a solid understanding of the material if they can answer a question by working backward.
FAQs – CFA Level 1 Pass Rate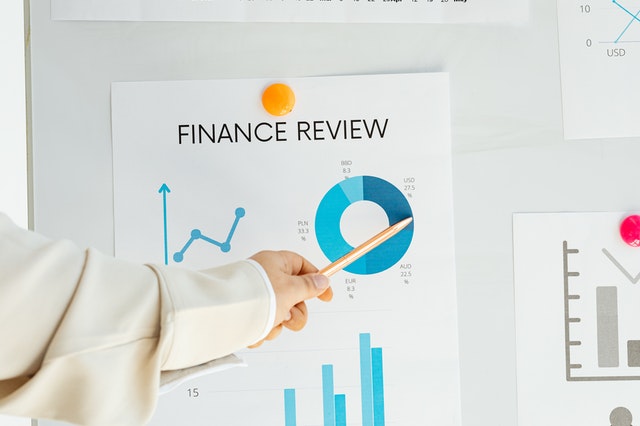 How many questions to pass CFA level 1?
In order to successfully complete this exam, you need to get the correct answer to at least 75% of the questions. There are a total of 135 questions that require accurate responses, which comes to around 68 for each session.
In order to pass the CFA Level 1 exam, what is the passing score?
If you make a mistake, there will be no consequences for you. The minimum percentage required to pass an exam administered by the CFA® Institute will never be more than 70 percent. To put it another way, the maximum passing range is between 70 and 100 percent, but you do not necessarily need to score that mark in every topic in order to pass the exam if you are able to make up for points lost in another subject.
Will I be successful if my test result is more than 70%?
In the past, a target score of 70 percent was thought to be acceptable; however, in the most recent tests in 2021, our expected passing score has increased owing to a number of circumstances. The CFA Institute has issued a statement suggesting that the abrupt change in trend might be attributed to the disruption caused by the epidemic. However, only time will tell whether this is an anomaly or not.
Is the CFA prestigious?
The Chartered Financial Analyst (CFA) designation is widely regarded as the gold standard for credentials in the areas of finance and investment. To begin, if you want to become a professional investor, you are undoubtedly already acquainted with the CFA Institute (CFAI) and the great reputation that it has. If this is your objective, you should consider joining the CFAI.
Is it beneficial to take CFA Level 1?
If you pass the CFA Level I exam, some of the employment opportunities that are available to you include an internship, an associate financial manager or auditor position, a portfolio analyst position, a portfolio superintendent position, a financial product analyst position, and a senior equities research associate position (that is often the first step toward getting into asset management as a career).
How many times can you take the CFA?
A candidate is only allowed to take the exam twice during the span of a single calendar year (if the circumstances warrant it), but each attempt must be separated by at least half a year from the other. Candidates will be allowed no more than 6 attempts on each subsequent level of the examination.
What happens if I fail CFA?
So, in your opinion, how hard is it to go through the CFA exam? Is getting a CFA truly worth the time and money it takes? Taking the CFA exam is a challenging endeavor, and Level 1 is only the beginning of the process. The first level of the CFA program is equivalent to a bachelor's degree, and subsequent levels get more challenging. It is widely acknowledged as being among the most challenging examinations anywhere in the world. Regardless of this, I was not aware that this had never been done before, and it is quite likely that you will fail.
What happens if I fail CFA?
Examine your test results as well as the performance report that was provided along with your score in the event that you are not successful in passing the CFA exam. Instead of relying only on self-study, you might think about enrolling in a CFA preparation course. You will need not just a well-planned approach to your studies, but also a well-planned approach to taking the test, one that takes into mind the format of the examination.
Above is all information about the CFA level 1 pass rate. Although it is considered a difficult exam, let's build up an effective studying strategy and you will then ace this. Good luck!