Have you been thinking about a career in emergency medicine but aren't sure what the difference between EMR vs EMT is? Is it the same thing? Don't be worried; you're not alone. Luckily, the response isn't too complicated, and you'll soon be able to more clearly define where you'd like to focus your efforts in this challenging and rewarding field.
In this article, we will discuss the definitions, the levels of EMR and EMT training, as well as the distinctions between them. Check it out below.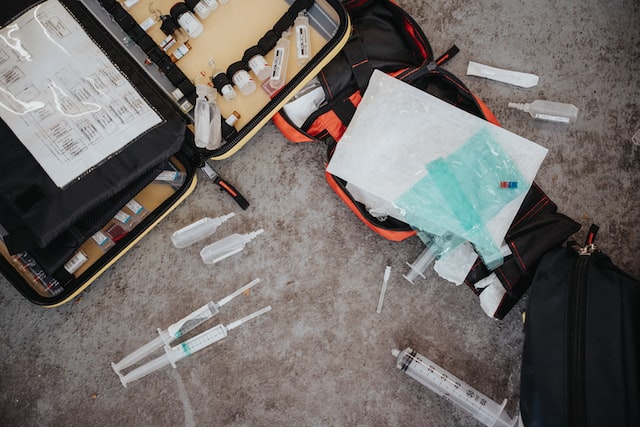 What is an Emergency Medical Responder (EMR)?
Lifeguards, law enforcement, park rangers, athletic coaches, volunteer firefighting, daycare providers, and security guards are among individuals who choose to become certified in EMR.
EMRs usually complete a 48-60 hour course that teaches them how to provide immediate lifesaving care to sick or injured people while using basic procedures and minimal equipment. EMRs are trained to treat life-threatening emergencies until additional EMS resources arrive. Unless they work in rural regions or with volunteer departments, EMRs rarely work on ambulances.
What is an Emergency Medical Technician (EMT)?
Those who achieve their EMT certification work for an ambulance service, a fire department, or law enforcement. Most EMTs transport ambulances in both emergency and non-emergency situations.
EMT courses last between 150 and 190 hours and prepare students to provide prehospital emergency care to the sick and injured. EMTs are trained basic life support skills such as patient stabilization and transportation. EMTs can perform interventions using standard ambulance equipment. EMR training is not required before enrolling in an EMT program.
In general, every ambulance must have at least one qualified EMT on board.
EMT certification comes in a variety of levels. Each one offers unique training in order to provide more advanced medical care. If an EMT wishes to advance in their career, they can study to become an Advanced EMT (AEMT) or a paramedic.
To help you pass your EMT on your first attempt, we offer hundreds of EMT practice test questions with the same format as the real test. Let's try it!
So, what is the difference between EMR vs EMT?
EMR vs EMT are the first two levels of qualifications in Emergency Medical Services.
The most significant distinction between EMR vs EMT professionals is that EMTs can transport patients.
Giving patients medication before they arrive at the hospital can also save their lives. While EMTs are permitted to do so, EMRs are not.
Another distinction between paramedics, EMRs, and EMTs is their training and scope of practice (what they are allowed to do).
EMRs are typically trained for 80 to 100 hours.

Basic EMTs are typically trained for 120 to 180 hours.

Advanced EMTs are typically trained for 150 to 300 hours.

Paramedics receive between 1,200 and 1,800 hours of training. Paramedic programs are typically two years long.
The ability to break the skin sums up the differences in scope of practice between EMRs, EMTs, EMT-As, and Paramedics. Most states prohibit basic emergency medical technicians from administering shots or initiating intravenous lifelines. Paramedics, on the other hand, can administer shots and use more advanced airway management devices to help patients breathe. Basic EMTs typically use oxygen, glucose, asthma inhalers, and epinephrine auto-injectors (a common exception to the no-needles rule). Depending on the state, paramedics are trained in the administration of 30-40 medications.
Read more >> How To Become An EMT? Step-by-step Guide
Which Path of EMS Should You Choose?
While you do not need an EMR qualification to begin an EMT course, you must be an EMT before enrolling in a paramedic course.
So, if you want to be an EMT or a paramedic, getting your EMT certification and working in an ambulance is essential.
If you do not have the time to devote to training to become an EMT right now, an EMR course may be a better option for you.
If you want to work in EMS but aren't sure which branch is best for you, taking an EMR course allows you to jump-start your career and start saving lives as soon as possible.
Learning first aid will also be beneficial if you want to become a firefighter or a police officer.
Working in the Emergency Medical field is a super rewarding career regardless of the path you take. You get to save lives and make people feel safe. 
So, what's the difference between EMR vs EMT? When it comes to determining the distinction between an EMR vs EMT, we have this conclusion. An EMR is essentially a backup professional to the role of EMT, with a smaller, more narrowly defined skill set that sees them providing support rather than leading an emergency medical effort.