EMT vs paramedic collaborates closely to provide emergency medical services (EMS). These two types of EMS providers frequently have overlapping but distinct roles. Knowing the differences between these titles can be helpful when deciding on a career in health care. In this article, we will look at what EMT vs paramedic are, how they differ, and the average salaries for both positions.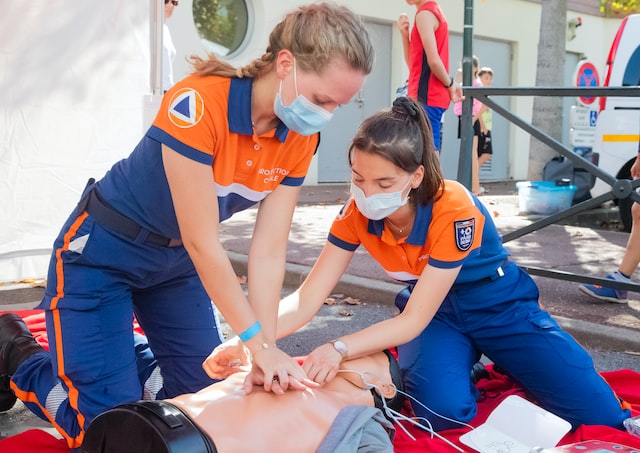 What's an EMT?
Emergency medical technicians (EMTs) are among the most common type of healthcare professionals in the field of emergency medical services (EMS). At the entry level, they care for patients. EMTs are typically called to provide medical care in the event of a medical or traumatic emergency. They examine the nature and severity of injuries as the first responders and transport the patient in a well-equipped vehicle. They then notify the hospital of the number of patients brought in as well as their injuries and illnesses.
EMTs also monitor a patient's condition until they arrive at a hospital and receive the necessary care. 911 operators typically dispatch EMTs vs paramedics to emergency cases, where they may work alongside firefighters and police.
The following are some of an EMT's primary responsibilities:
Moving patients between facilities

assisting in the stabilization and treatment of patients en route to a hospital

Assessing patients

Notifying the hospital of the injury or illness, the number of patients being transported, and the expected arrival time

Maintaining patient records

Responding to 911 emergency medical assistance calls

External bleeding control

Backboards and restraints keep the patient still and safe in the ambulance during transport.

Cardiopulmonary resuscitation (CPR) or wound bandaging

Keeping patients from suffering from shock and further injury
To help you pass your EMT on your first attempt, we offer hundreds of EMT practice test questions with the same format as the real test. Let's try it!
What is a paramedic?
Paramedics are skilled providers of pre-hospital care. They have licensed healthcare professionals who can give patients advanced life support before they arrive at a hospital. They are more highly educated than EMTs in treating acute illnesses and injuries and can provide care comparable to that of an emergency medical room. They are well-versed in topics such as physiology, cardiology, medical procedures, and medication. Paramedics, like EMTs, are typically summoned to a scene via 911.
Here are some of the duties that a paramedic may have:
Respond to emergency calls for help in cases of sudden illness, accidents, fires, and natural disasters.

Diagnose patients and devise a quick treatment plan to keep them stable.

Give emergency medical care on the scene or on the way to the hospital.

Transport patients to the hospital in a secure ambulance.

Medication administration (the specifics of what they can administer depends on their level of training)

If necessary, provide life support.

Check the patient's vital signs.

Inform receiving physicians about the patient's condition.
What are the differences between an EMT vs paramedic?
Emergency medical technicians (EMTs) save lives by providing life-saving care to patients at the scene of an emergency and while transporting them in an ambulance to a hospital. EMTs are trained to assess critical illnesses and injuries, administer first aid, as well as provide basic life-saving health care.
Paramedics are more advanced EMTs who can perform more advanced medical procedures such as administering oral and intravenous medication, monitoring electrocardiograms (EKGs), and performing tracheotomies. Paramedics care for patients as they arrive in ambulances at hospitals and emergency rooms.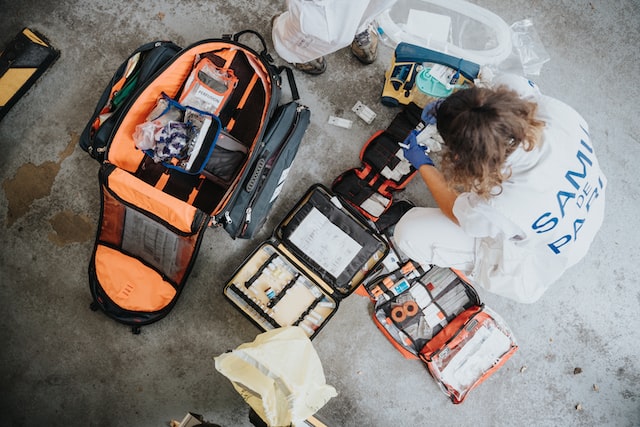 To better grasp the distinctions between EMT vs paramedic, consider the following:
Education and training
An associate's or bachelor's degree is not required to become an EMT. A high school diploma or a GED is sufficient. EMTs, on the other hand, should be certified in cardiopulmonary resuscitation (CPR). Community colleges and vocational schools will provide them with EMT training. EMT training programs are typically 150 hours long. To become a successful EMT, students must also complete and pass the National Registry Emergency Medical Technicians (NREMT) cognitive exam.
The highest level of EMT (Emergency Medical Technician) certification is a paramedic. Paramedics must be professionally qualified for basic and advanced EMTs as well as additional studies. Prospective paramedics may work as EMTs for a year or two to gain on-the-job experience before completing the 1,200 to 1,800 hours of training required to become paramedics. Paramedic college degree programs typically last two years. In order to become certified paramedics, individuals must pass the National Paramedic Certification (NPC) exam as well as the required state licensing counterparts (e.g., Oregon Health Authority).
Read more >> EMR Vs EMT: What Is The Main Difference Between Them?
Certification & Licensure
EMTs must obtain CPR certification because most EMT training programs require applicants to already have CPR training. This certification is provided by organizations such as the American Red Cross and the American Heart Association. Most states require them to gain the National Registry Emergency Medical Technicians (NREMT) certification as an appropriate guarantee of competency. Almost every state requires this certification before becoming a licensed emergency medical technician. To be eligible for a license, the EMT needs to be at least 18 years old and have a current driver's license.
You are required to be at least 18 years old, a high school graduate, have a valid driving license, and have CPR certification in order to become a certified and licensed paramedic. A student must become nationally certified through the National Registry of Emergency Medical Technicians after graduating from a paramedic program (NREMT). However, becoming nationally registered or certified does not imply that you will be allowed to practice. To practice in a state, paramedics must first obtain a license from that state. While some states grant licensure based on NREMT results, others use their own tests to provide licenses.
EMT vs paramedic salary and job outlook
The number of EMTs vs paramedics is predicted to increase by 11% between 2020 and 2030, resulting in 20,700 new job openings annually, according to the US Bureau of Labor Statistics (BLS). According to the BLS, the combined median salary for both EMTs vs paramedics in May 2021 was $36,930 per year. However, your exact salary as an EMT or paramedic will most likely be determined by your work experience, education level, geographic location, and the local job market. Because of their additional training and experience, paramedics generally earn more than EMTs.
Should you be a paramedic or an EMT?
Whether you end up deciding to join EMS as an EMT or a paramedic is entirely dependent on your own ambitions and individual goals. To become a paramedic, however, you must first become an EMT, which gives you time to think about whether you want to advance your EMS career even further.
Individuals who have worked as EMTs for a long time may decide to advance their skill set by completing the additional training necessary to become paramedics.