Are you an IT professional who has been working on the helpdesk for a while? Or are you just getting started in the field?
Regardless of who you are, if you want to advance in your IT job and be successful, one thing is certain: you must enroll in and get as many certifications as possible.
There are several certifications in the information technology field that you may obtain to advance your career and gain recognition.
CompTIA A+ vs CCNA, for example, are two of the most commonly discussed advanced certifications in the business. Many users across various social media sites have previously found it difficult to choose one of the two qualifications to pursue initially.
So, which certification is better between CCNA vs CompTIA A+? 
If you want to get into the profession soon, earning an A+ is an excellent first step. If you're a professional or a recent graduate interested in a network administrator or a more advanced cybersecurity career, the CCNA is a better alternative.
If you're trying to decide between them as your first certification, keep reading because we'll provide you with some points to think about before making your decision.
But firstly, we need to know what exactly these two exams are to get familiar with them before performing the face-off.
What is Cisco CCNA vs CompTIA A+?
Cisco CCNA
The Cisco Certified Network Associate (CCNA) is an advanced-level certification created by CISCO, the world's foremost networking equipment manufacturer and seller. The CCNA test is designed to verify your knowledge and skills, as well as your ability to diagnose, repair, and set up diverse networks.
Unlike other certification exams, the CCNA test is short, lasting only 120 minutes. Approximately 100 to 120 questions on real-life topics are usually included in the test. Furthermore, multiple-choice, drag-and-drop, fill-in-the-blank, simulation, simplest, and test questions are frequently used.
Following are some of the topics of information technology that you may anticipate to be covered in the CCNA exam:
Network fundamentals

IP services

Security fundamentals

Network access

Automation and programmability

IP connectivity
CompTIA A+
The Computing Technology Industry Group (CompTIA), a non-profit trade association based in the United States, created the A+ certification. 
There are two tests you must pass in order to achieve this certification: Core 1 (220-1001) and Core 2 (220-1002).
The CompTIA A+ is a performance-based certification that verifies a candidate's ability to repair PCs, diagnose, and resolve a wide range of networking, operating system, mobile device, and security issues.
Furthermore, in order to pass the CompTIA A+ exam and acquire the certification, you must become familiar with a larger range of information, which includes the following:
IT support personnel must be able to demonstrate basic security skills

Having the ability to set up a variety of operating systems, including Linux, Windows, Mac, Chrome OS, Android, and iOS

Troubleshooting to identify fundamental service and support issues and give viable solutions to fix them

Basic IT infrastructure and networking are supported

Configure, assemble, and disassemble the hardware of PC, mobile, and IoT devices

Implement suitable information security controls for helpdesk and technical support jobs.
7 things to consider before deciding between the CCNA or CompTIA A+
Now it's time to discuss the differences between the two certificates and why one is preferable to the other. Before we get started, you should know that both the CCNA and A+ certifications have been around for a long time. They're industry-recognized qualifications governed by two industry behemoths: CompTIA and Cisco.
Comparing the Cisco CCNA vs CompTIA A+ exams for relevance
To begin, let's explain that both the CompTIA A+ and Cisco CCNA certifications have long histories and have been around for decades. There are many people who have both credentials, many people who have both certifications but have let them expire, and many employers who recognize both certifications.
This is significant since most managers, employers, and IT supervisors are familiar with both the A+ and the CCNA and are aware that the A+ is for helpdesk, hardware, and software, while the CCNA means Cisco, meaning networking.
Because both of them are so well-known, having either on your resume gives you something that is immediately recognizable and connected with a certain area of IT. This isn't a case where one certification will assist you to land a job more than the other.
The cost of Cisco CCNA vs CompTIA A+
Another factor to look at is how much it costs to obtain each of the certificates. The CCNA test is divided into several categories, in case you didn't know. The CCNA Routing and Switching, which costs around $330, is the most popular. The following are some others:
Security CCNA – $465

$600 for CCNA Service Provider

Wireless CCNA – $465
The CompTIA A+ exam cost, on the other hand, is marginally less than that of its equivalent. You will be required to take two examinations, each of which will cost around $232.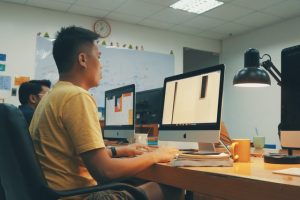 Two different certificates imply two different career paths
One of the most crucial factors to consider when choosing which certifications to pursue is your true goal. Although both qualifications are well-known, they are well-known for various reasons. When determining which certification is right for you, keep this in mind.
The A+ is troubleshooting, hardware, software, printers, and basic networking certification that focuses on helpdesk and computer repair. The A+ is designed for roles like IT support jobs such as helpdesk technician, field service technician, and desktop support administrator. CompTIA's list of A+ using jobs is entirely comprised of entry-level professions, with only one mentioning a computer networking function.
The Cisco CCNA, on the other hand, is said to concentrate on networking technology, security, and automation. While the CCNA only covers the associate level of these technologies, it definitely qualifies you for a higher job classification than the A+ positions, such as helpdesk technicians.
Which option will get you your first job faster?
Now that we've determined which tasks these certificates are designed for, it's worth noting that, in my experience, helpdesk are generally easier to come by than networking employment (such as the CCNA).
This is due to the fact that there are simply more technician jobs than network administrator jobs, as well as the fact that employers are more willing to give access to an entry-level professional with no experience in a helpdesk environment than they are in a networking environment.
Which of these two certifications you choose to sit for should be based on where you wish to start and progress in your career. If you want to be a network administrator, the CCNA should be your first choice; but, if you want to start your career as an IT support technician, the A+ might be quite useful.
Remember that if you have no prior networking experience and the CCNA is your first certification, your road into the profession by going straight to a networking-related job may be more challenging and time-consuming than if you went the A+ and helpdesk route.
Even if it's not in the area of cyber or IT that you're ultimately interested in, getting any experience sooner is sometimes preferable to not getting any experience at all.
The average annual salary of CompTIA A+ vs CCNA
Another factor to consider while deciding between CCNA and CompTIA A+ is the average yearly pay. According to ZipRectuiter, a Cisco CCNA certified professional earns an average yearly income of $84,376. That works out to around $41 per hour when converted.
Regarding CompTIA A+ salary, CompTIA A+ certified professional, on the other hand, may expect to earn between $45,000 and $60,000. If you're fortunate enough to land a job as a desktop support analyst, you can expect to earn an average of $60,000. IT support workers who have earned their A+ certification can earn up to $54,500 per year.
The CCNA and the A+ have similar levels of difficulty
After taking both examinations and working with many people who have, it appears that both the CCNA and the A+ are equally hard as entry-level IT exams. Both require sufficient study and practice, but in distinct areas and with different exam objectives in mind. That is to say, in order to pass and get any of the certificates, you must devote a significant amount of time and effort to studying and practicing.
Because there isn't any easier or harder test for any of these certifications, most people will be better suited to select their exam depending on their area of interest and career ambitions.
The mainline is that, regardless of which certification you choose between A+ and CCNA, you must study thoroughly, get familiar with, and comprehend every subject they cover.
The CCNA has a shorter timeline
While the CCNA needs only one test, the A+ requires two. Both A+ tests are packed with technical information and cover a lot of material. The CCNA covers a wide range of topics as well, but because it is administered in a single test format, you will not be needed to answer as many questions as you would for the A+.
Because the CCNA only has one test, most people with similar expertise in both areas should be able to finish and acquire the CCNA faster than the A+, implying that you will become a certified professional sooner, and have a credential on your CV sooner, and profit from the certification sooner.
Conclusion
If you're deciding between the CompTIA A+ vs CCNA  for your first certification, there are a lot of things to think about. 
Your background knowledge, career goals, and timeframe for entering the IT or cyber profession are all crucial factors to consider. 
With our 7 factors to consider choosing between these two exams, we hope you will quickly determine which one is the best for you. However, if it's possible, you might follow in the footsteps of many others and obtain both certificates, reaping the benefits of both.